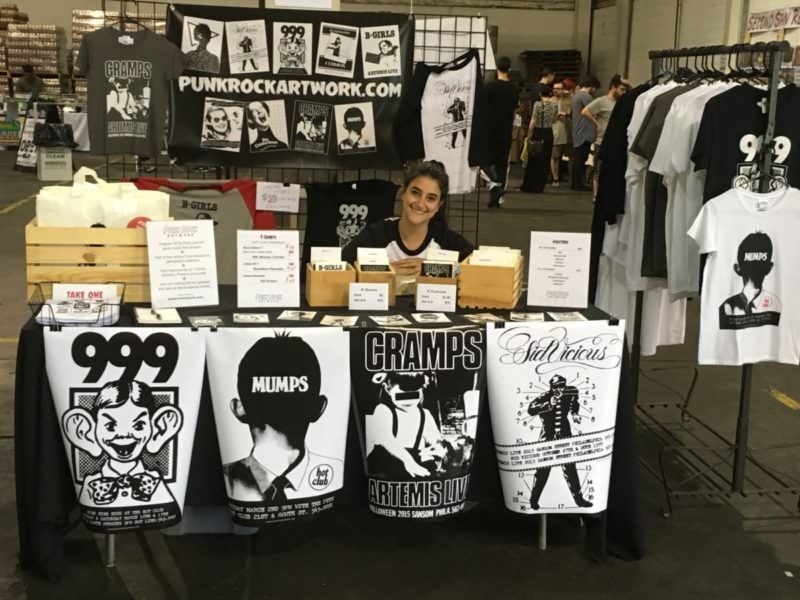 About Punk Rock Artwork
Punk Rock Artwork, LLC announces the launch of its online store PunkRockArtwork.com devoted to faithful reproductions of our original vintage punk rock flier designs. It has been over 30 years since Punk Rock burst onto the international music scene with acts such as Sid Vicious, Richard Hell and The Voidoids, The Mumps, The Cramps, The Bloodless Pharoahs and many more! The genre remains as strong, if not stronger, today with the devoted fan base growing rapidly. The thirst is not just for the music, but also for the lifestyle and memorabilia, past and present. This can be seen in the growing number of dedicated punk rock flea markets, websites and museums.
PunkRockArtwork.com, established in 2017, is a new online store from which graphic designer Fred Yavorsky (signature: YAVO) brings new life to his original 1970s Philly and NY punk music flier art. Specifically, YAVO's original designs for shows by artists such as Richard Hell and The Voidoids, The Contortions, The Mumps, The B-Girls, The Cramps, Sid Vicious, 999, Ultravox, and The Bloodless Pharaohs—which are part of the Venice Italy Punk Museum's permanent collection—are now available on T-Shirts, Postcards, Stickers, Posters and more!
After graduating from Tyler School of Art in the late 1970s, Fred frequented music venues like Artemis Live and The Hot Club in Philly back in the day. "These fliers were distributed old school … meaning stapled to telephone phones or pasted up on walls," said founder and artist Fred Yavorsky, "That was our social media." In fact, the Sid Vicious flier was designed for a show that never took place after the infamous Vicious was arrested for the murder of his girlfriend, Nancy.
A family business, Punk Rock Artwork came to life when Yavorsky and his wife, a clinical psychologist with her own online CE business that he helped design, were visiting their daughter Sofie who had recently moved from Philly to Brooklyn to pursue her acting career. "I kept seeing all the vintage rock T-shirts the locals were wearing and couldn't wait to retrieve my original fliers from deep storage. I showed them to Sofie who showed them to her friends and the next thing we knew we were taking orders for silkscreens … and now here we are.
These vintage graphics are as sharp and relevant today as they were decades ago. Classic designs, new media. Our introductory inventory includes the original artwork reproduced on 100% cotton T-shirts in both men's and women's sizes. T-shirt prices range from $15 to $30 depending on shirt style and printing process — silkscreened or digitally printed. Our 18 x 24 inch digitally printed posters for $20 display the bold graphic designs beautifully. If you'd like all 9 of the original YAVO designs you can chose between packs of stickers (4 x 5.25 inch) and postcards (4.25 x 5.5) each of which includes all 9 designs and sells for $15 and $10 respectively. In addition, diehard collectors will be pleased to know that Punk Rock Artwork.com still has a limited number of the original vintage fliers for sale… just like the ones in the museum in Venice!
Visit Punk Rock Artwork.com to see our complete current inventory and stay tuned to Punk Rock Artwork news by signing up for our emails at the website, http://www.punkrockartwork.com. We'll send announcements about new products, special offers, and upcoming flea markets where we'll be vendors.